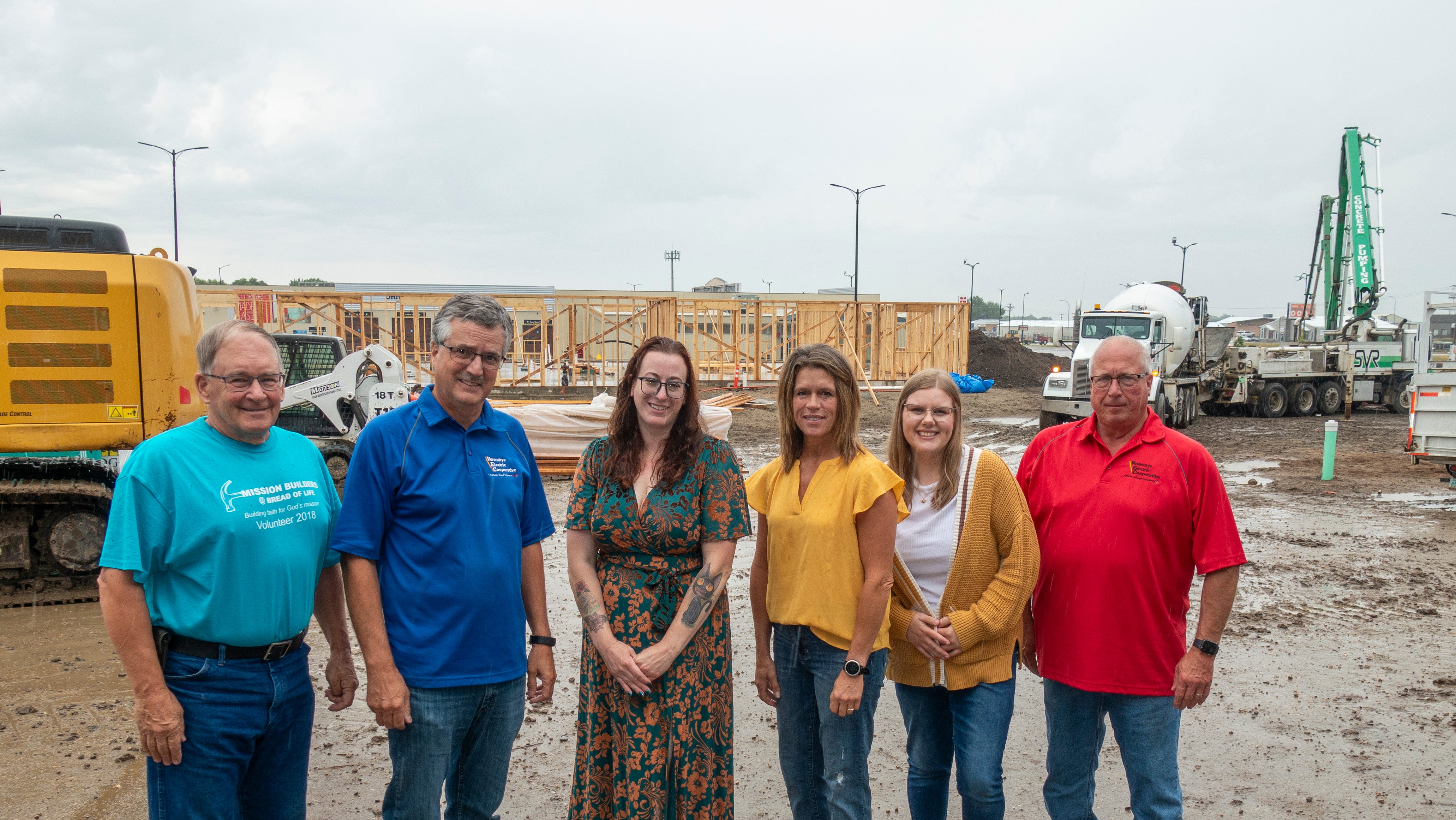 On a rainy day in August Verendrye Electric presented Project BEE with a $7,500 donation that will help homeless and low-to moderate-income families and individuals. The donation is from a matching grant Verendrye utilizes with its lender CoBank and power producer Basin Electric Power Cooperative.
Despite the rain that day, workers continued to build, much to the excitement of Executive Director Liz Larsen.
"We have walls now!" she said with a smile. On that rainy day the project had some of the framing and concrete work completed. Larsen said they hope to have a plan to move into the new facilities in December or January.
The Broadway Circle is a $10 million project that will include space for 6 families in apartment-style shelter units designed to foster independence and resiliency and a 17-unit low to moderate income permanent housing complex. The Broadway Circle will also include office space for the organization and a place for other nonprofit organizations, including the Lord's Cupboard Food Pantry and a soup kitchen.
Larsen said there were some difficulties getting the project off the ground. The concept for it started after the 2011 flood, but didn't gain serious momentum until about 2020. Project BEE used to be the YWCA, but at the end of 2020 their board rebranded. It was then the board knew there were opportunities to receive National Disaster Resilience and Community Development Block Grant (NDR-CDBG) funds they didn't want to lose.
Lutheran Social Services was also involved early on but went bankrupt in 2021.
"Everyone wanted this project but no one wanted to commit to it," Larsen said. "Things worked out and we ended up taking the project."
Project BEE received a $5.8 million NDR-CDBG and has a capital campaign to raise $4.4 million.
The site is on South Broadway in Minot behind the Ishii Ramen Restaurant. Project BEE also owns the building that the restaurant is located in and receives rent. Part of that building is a temporary office for the organization, but that will also be rented out eventually. Their building downtown will continue to be used as a shelter.
Receiving rent will be one way Project BEE can sustain its operations. Another benefit to the project is that their staff, as well as the Lord's Cupboard Food Pantry and soup kitchen, will be at the same site.
Pastor Gerald Roise, who has been active with the Lord's Cupboard for many years, said the location and facilities of the new location will be a major upgrade in terms of storage and access for clients. They are currently located on Burdick Expressway in a Quonset building.
"It will be a much more client friendly atmosphere, which is a big step for us," Rosie said.
Roise said they will coordinate with other soup kitchens to ensure their meals don't overlap with others. Rosie is excited at the opportunity to work on the same site with Project BEE so together, they can help more people.
"We're trying to put more than just a roof over their heads," he said.
Project BEE accepts donations of cash, food, hygiene products, diapers and household items, and is in need of volunteers. For information on how you can help go to projectbeend.org.